Pakistani military Thursday denied claims by U.S. officials that American troops have returned to the country in a supposed training role several months after Islamabad forced their departure following a NATO strike that had killed 24 soldiers.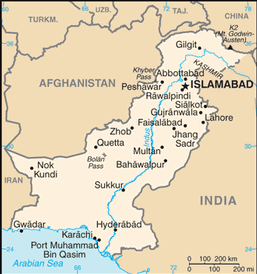 An anonymous U.S. official was quoted as saying that about 10 U.S. military trainers were reintroduced back into Pakistan to assist Pakistan's Frontier Corps in counter-insurgency warfare.
"The news of returning of U.S. trainers to Pakistan is not correct," a brief army statement said.
The Pakistanis are probably reluctant to admit any renewed military and security cooperation with the U.S. because America is so hated in the country. But recent news suggests the U.S. has at least partially succeeded in coaxing Islamabad back into a working relationship, so the troops in Pakistan may be true.
The Pakistani Parliament passed a resolution last month that demanded a stop to all U.S. drone strikes in the country and demanded "the cessation of infiltration into Pakistani territory on any pretext, including hot pursuit." The U.S. has ignored the demand to stop drones, so it's possible the ban on troop infiltration has also been disregarded.