Despite ongoing negotiations with the Pakistani government aimed at reopening the border to Afghanistan, the rate of the US drone strikes against North Waziristan Agency seem to be increasing, not decreasing.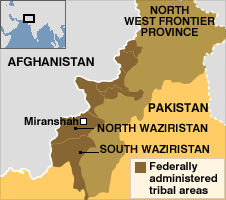 Today, drones followed up the late-night attack on Hasso Khel, which destroyed a house and killed seven unidentified people, with another attack in Datta Khel, which killed five more bringing the toll to 12 in the last 24 hours, and 16 over the weekend.
The victims of today's attack were not clear either, as it attacked a seemingly random vehicle and charred the bodies beyond recognition. Officials have termed all 16 slain, including the four bakery customers killed Saturday, "suspects" based purely on the fact that they got hit with the missiles.
Pakistan's parliament has repeatedly demanded that the US end its drone campaign, and has summoned US envoys over the failure to do so. President Obama has ruled out ever ending the strikes, insisting that they are vital to his ongoing wars.
Last 5 posts by Jason Ditz