Israeli Prime Minister Benjamin Netanyahu has released his first significant statement of the ongoing Syrian civil war in over a year, addressing the "appalling" deaths in the town of Houla, where at least 108 were killed Friday.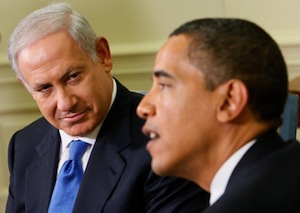 But while most of the comments from the international community were self-serving attempts to condemn either the Assad regime or the rebels, Netanyahu appears chiefly interested in making things about Iran, so in his statement he condemned Iran and Hezbollah for the massacre, saying that the "world needs to take action" against Iran for the deaths.
Iran's role in the Syria conflict is, naturally, fairly minimal. The regime has sold some weapons to Syria, but the nation's military is mostly armed by deals with Russia, which is still shipping weapons to them. The rebels, by contrast, have been armed mostly by the GCC, with the US helping to smuggle the arms into the nation.
Israeli DM Ehud Barak's comments likewise referenced Iran, but centered around calls for the world to invade Syria, saying that they were obligated to do so.