Egypt's first ever presidential election has come to a close, and after a series of conflicting reports and some razor thin margins in mid-count, the preliminary results have set up a runoff between Muslim Brotherhood candidate Dr. Mohammed Mursi and former Mubarak loyalist Ahmed Shafiq.
Preliminary Egypt Presidential Vote Results (top two in runoff)
Mohammed Mursi – 5,553,097
Ahmed Shafiq – 5,210,978
Hamdeen Sabbahi – 4,739,983
Abdelmoneim Abol-Fotouh – 3,939,264
Amr Moussa – 2,407,837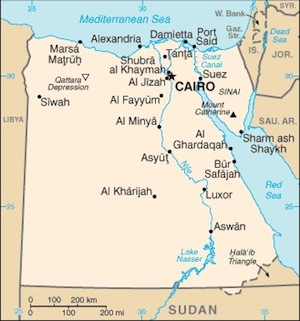 The final results had been predicted from fairly early in the count, but a surprising surge by populist candidate Hamdeen Sabbahi, who barely had a presence outside of the major cities, had him neck and neck with Shafiq. Salafist candidate Abdelmoneim Abol-Fotouh disappointed with a distant fourth, while the once clear front-runner, former Arab League chief Amr Moussa, appeared to lose momentum in the final weeks of the campaign and floundered in at fifth. Six other candidates had votes, but officials termed them "negligible" compared to the top five.
Final results won't be certified until Tuesday, and recounts could still conceivably change things, but for now the choice for Egyptians will be between Dr. Mursi, a former professor at Cal State-Northridge who has centered his candidacy on removing the military junta from power as soon as possible, and Air Marshal Shafiq, who served a tumultuous month in the role of Mubarak's last appointed prime minister in February 2011, in the midst of the revolution.
The run-off will leave the liberal portion of the revolutionaries unclear on who to vote for, concerned that voting for Mursi, the head of the parliament-leading Freedom and Justice Party (FJP), will move the country toward religious rule, while Shafiq would take the country back to the bad old days of Mubarak.
The FJP has claimed that Sabbahi and Abol-Fotouh have both endorsed Mursi in the runoff, though their campaign leaders deny that any such decision has been made yet. Fotouh's followers are almost certain to endorse Mursi over Shafiq, though it is possible that Sabbahi's supports may simply skip the runoff.
US officials aren't thrilled with this either, though it isn't clear if they were still backing Moussa or had moved to someone else among the liberal candidates. Eric Trager, an expert with the AIPAC-linked WINEP, termed the runoff "flavors of bad."