A British legal tribunal today ruled that the government must release the details of a phone conversation between Prime Minister Tony Blair and George W. Bush on March 12, 2003.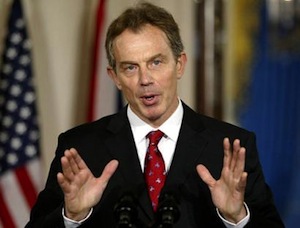 The ruling said "the circumstances surrounding a decision by a UK government to go to war with another country is always likely to be of very significant public interest, even more so with the consequences of this war."
The details of the conversation have been kept secret for nearly a decade, but reportedly included a discussion between Blair and Bush of whether or not to seek UN authorization to attack Iraq. Ultimately they did not.
The Foreign Office had demanded to keep the files related to the conversation secret, saying that allowing any part of the discussion to go public would do "serious damage" to UK-US relations.
This has been a common tactic for British officials, arguing that things need to be kept secret to avoid enraging the US. Last month, British spies said that the CIA had deliberately withheld information about a possible terror attack in the UK, saying they feared that courts would go public with the details.