A major war of words has erupted today between Rep. Jack Kingston (R – GA) and professional race car driver Dale Earnhardt Jr., with the well-known driver of a car railing at the Congressmen, accusing him of having never attended one of his races.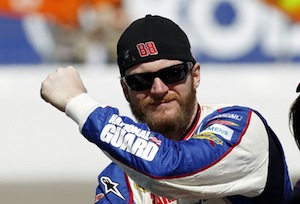 This might require some backstory. Rep. Kingston is the co-sponsor of an amendment, passed today in a voice vote in the House, which ended all military subsidies for Earnhardt's occupation, banning the Pentagon from sponsoring any professional or semi-professional events, including NASCAR, fishing and professional wrestling.
Earnhardt is a surprisingly large recipient of such largesse, having received over $136 million for his car and his jacket to carry a National Guard logo on them for the last five years. Kingston insisted that the Pentagon had failed to make the case for while seeing the logo would convince anyone to join the military.
NASCAR spokesman Kerry Tharp insisted car races were "proven to be a very effective recruiting tool," while driver Jeff Burton insisted that the program's justification was self-evident, adding "why would they be spending the money if it wasn't effective." Earnhardt himself said that the National Guard was eternally grateful for his driving ability and that "they can't stress to me enough about how much this program helps their recruiting."
Apparently they didn't provide Earnhardt with the complete data. According to the bill's author, Rep. Betty McCollum (D – MN), the $26.5 million the National Guard gave Dale Jr. last year resulted in 24,800 individuals expressing "interest" in the guard. Maj. Brian Creech said that of those people only 20 were actually found to be qualified candidates. Of those 20, none of them actually joined, so the cash netted zero new recruits.