The top U.S. commander in Afghanistan met with Pakistan's army chief Saturday in talks suspected of being aimed at reopening NATO supply routes to Afghanistan through Pakistan which have been totally closed after U.S. warplanes accidentally bombed a Pakistani outpost needlessly killing 24 soldiers.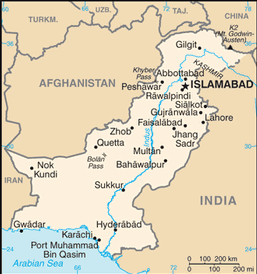 The relationship between Washington and Islamabad has deteriorated significantly in the past six months. The Pakistani Parliament last month passed a resolution declaring that all U.S. drone strikes into Pakistani territory stop immediately (the U.S. has ignored this demand), that no infiltration of any U.S. troops will be tolerated, and that supply routes will never be reopened.
But some say the talks between U.S. Gen. John Allen and Pakistani army chief Gen. Ashfaq Parvez Kayani indicates the relationship is being ameliorated. Washington has been lobbying hard to get the supply routes to Afghanistan reopened and Islamabad may be vying to get increased aid which the U.S. promised if Pakistan complies.
Washington is also dangling an invitation to the NATO summit on Afghanistan in Chicago on May 20-21 as a carrot if Islamabad agrees to reopen the routes.
High-level talks will continue into next week, including one with the Cabinet and another with the defense committee of the Cabinet, which includes the head of the Pakistan army and its powerful intelligence arm, the ISI.
Last 5 posts by John Glaser