China has denied reports its military is preparing for war amid tensions with the Philippines over a disputed territory in the South China Sea.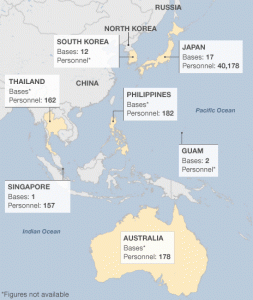 "Reports that the Guangzhou military region, the South China Sea fleet and other units have entered a state of war preparedness are untrue," the defense ministry said late on Friday, despite warnings to the Philippines claims on the disputed island amounted to an infringement of Chinese sovereignty and that military conflict is possible.
Armed ships from China and the Philippines have been confronting each other in a naval standoff for more than a month just a couple hundred nautical miles off Filipino land.
The U.S. has been building up the Philippines's military and security forces, offering funding and weapons in exchange for greater American presence in the country. Greater U.S. involvement with the Philippines and surrounding areas are part of a broader imperial plan to counter China's regional influence, a provocation which could escalate to armed hostilities.
Washington's 1951 Mutual Defense Treaty with the Philippines states, "Each Party recognizes that an armed attack in the Pacific Area on either of the Parties would be dangerous to its own peace and safety and declares that it would act to meet the common dangers in accordance with its constitutional processes."
The treaty essentially obligates the U.S. to confront China to defend the Philippines, a reality which has only intensified the antagonism over the disputed territory.