Senior Israeli ministers who oppose a strike on Iran said on Wednesday Kadima head Shaul Mofaz may betray his earlier opposition to war now that the hawkish Prime Minister Benjamin Netanyahu has formed a unity government with Kadima.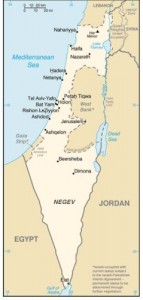 Mofaz will join the forum of senior ministers, alongside Foreign Minister Avigdor Lieberman, Defense Minister Ehud Barak, Interior Minister Eli Yishai, Finance Minister Yuval Steinitz and ministers Moshe Ya'alon, Dan Meridor and Benny Begin.
Steinitz, Lieberman, Netanyahu and Barak generally support a military strike on Iran, whereas Ya'alon, Meridor, Yishai and Begin are considered opponents of such a move. Mofaz may tip the balance in favor of war.
"How can one know for sure that he won't be equally fickle on Iran?" one cabinet minister told Haaretz. Other observers have argued that Mofaz will be concerned primarily with furthering Kadima's domestic issues, while acquiescing to Netanyahu and the hawks on a war on Iran.
One of the reasons the unity deal Likud reached with Kadima was so noteworthy is because, as Israeli political commentator Amit Segal says, national unity governments are typically  formed in Israel in times of crisis – "mainly under conditions of war." And Kadima seems to be warming to the idea of war.
Kadima Knesset member and  former Army Spokesman Nachman Shai said on Thursday: "All kinds of unpredictable factors are unfolding in the region. Economically, we don't know where we're going. Regionally, we may find ourselves in a war in a few months. If that were the case, we would have joined the coalition immediately anyway, just as (the late prime minister Menachem) Begin did in 1967 (at the time of the Six-Day War). I'm not saying we're going to have a war. It's a possibility."