Bahrain vowed on Tuesday to intensify its security crackdown on anti-government protests after  Sunni regime terminated negotiations on addressing the political grievances fueling the popular upheaval.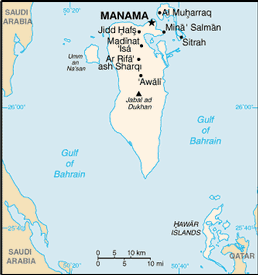 Bahraini media have reported a new security plan to "restore order" to the beleaguered Gulf state, which will probably include more repression. Authorities have recently detained a leading activist and warned a top Shi'ite cleric to stop alleged incitement to violence.
With the support for the United States, the Bahraini dictatorship, which hosts the U.S. Navy's Fifth Fleet, has responded to largely peaceful, pro-democracy protest movement with brutal tactics like shooting at crowds with live rounds, systematic torture and beatings, ubiquitous tear gas shot into residential areas, arbitrary arrests and show trials, clamping down on free press, and more.
Bahraini government spokesman Sheikh Abdulaziz bin Mubarak Al Khalifa told Reuters: "Because of the escalation in violence, we are looking into the perpetrators and people who use print, broadcast and social media to encourage illegal protest and violence around the country."
"If applying the law means tougher action, then so be it," he added. What "tougher action" means is yet to be determined, but reliable U.S. money and weapons to the repressive Middle Eastern dictatorship is likely to continue regardless.