The 9/11 military tribunal at Guantanamo Bay opened Saturday, with a long 13-hour arraignment hearing presaging what those on both sides say will be a long, difficult legal fight that could continue for several years.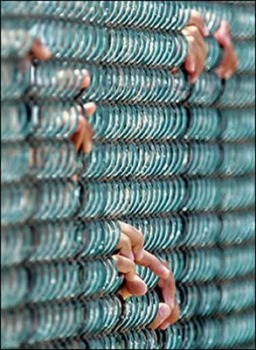 The entire system around which the tribunal is based took years to be created, in the wake of political debate over whether to hold trials for detainees, or to simply summarily execute them. The current system was created as a compromise; well short of an proper trial, but with some of the trapping of one.
It was not enough of the trappings to convince the five detainees, however, who refused to recognize the legitimacy of the system. One of them even asked for a reading of the charges, a move which shocked many and which his lawyer explained amounted to "peaceful resistance to an unjust system."
The tribunal is likely to go down a number of roads over the coming years, with the defense looking to discuss the repeated torture of the five at the earlier opportunity, with one of the detainees removing his shirt to reveal deep scars all over his body. The prosecutor, Brig. Gen. Martins, seems to be hoping to avoid this inevitably embarrassing line of questions with a promise that he doesn't plan to use any of the evidence gained from the torture.
The message was clear from the defense, however, with one of the lawyers condemning the tribal system as "rigged" to produce a conviction. Martins, the prosecutor who will enjoy all the advantages of the secretive tribunal system, insisted that there needed to be a balance struck between a "fair trial" and national security, and that the system is "lawful."
Last 5 posts by Jason Ditz