Top U.S. and NATO military leaders have been exploring possible scenarios in Syria if Western powers decide to attack and eliminate the the regime of President Bashar al-Assad.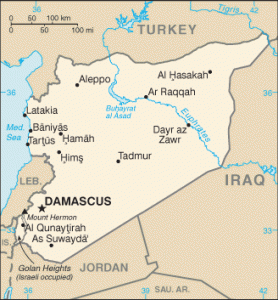 The deliberations were revealed by Chairman of the Joint Chiefs of Staff Gen. Martin Dempsey during a speech Tuesday at the Carnegie Endowment for International Peace in Washington, DC.
"We want to know what [comes] next, before taking that step [to] military action," he said.
Dempsey made clear that these deliberations during meetings with NATO leaders in Brussels last month did not include any actual planning for military action in Syria and emphasized that a post-Assad situation would be uncontrollable. "There are certain things we cannot do," he said.
Pressure in the Washington is still strong for a military intervention into Syria after ongoing violence has discredited the UN-brokered ceasefire. Interventionists are pretending their call to arms is about protecting Syrian civilians and ending the violence, but intervention would almost certainly escalate the violence and most admit the broader aim is to eliminate one of Iran's main allies in the region.
The Obama administration has been somewhat opaque on Syria. They have said, along with NATO, that there are no plans for military action, but they have also reportedly sent "non-lethal aid" to the opposition, condemned the Annan plan as a failure, and hinted at a "Plan B" in light of the seemingly intractable nature of the conflict.