America's provocative deployment of advanced F-22 higher jets to the United Arab Emirates endangers the region, Iran said on Tuesday.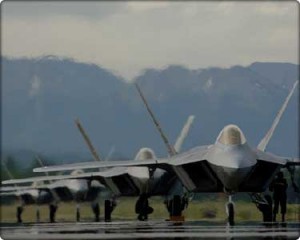 "We do not in any way approve the presence of foreign forces in the region. We advise the regional countries against providing a basis for their presence," the Islamic republic's foreign ministry spokesman, Ramin Mehmanparast said.
Just as tensions between Iran on the one side and the UAE and its Sunni allies in the Gulf on the other peaked last week, the U.S. decided to station a squadron of F-22s, the most advanced warplane in the world, at Al-Dhafra airbase in the UAE, joining the spy planes and aerial tankers of the 380th Air Expeditionary Wing already based there.
Iran's condemnation of the provocative militarism followed comments on Monday by the defence minister, Ahmad Vahid, who said, "Such deployments in the region are both harmful and useless. They are mostly done to create a psychological trend and a sense of insecurity in the region."
And he's just about right on that. As BBC reporter Jonathan Beale explained onboard the USS Abraham Lincoln in the Gulf's Strait of Hormuz, "This carrier and these [fighter] jets are more than just a show of force, they're here to send a clear message to Iran as to who really controls these waters."
Many see the deployment as explicitly timed to signal to Iran ahead of a second round of nuclear talks on May 23 that if Iran isn't compliant, there will be consequences.
In response Iran's objections to the F-22 deployments, Pentagon spokesman Capt John Kirby described it as "a very normal deployment," apparently unaware of the irony he was injecting into the dispute.