The U.S. and Japan have come to an agreement on the relocation of about 9,000 U.S. Marines that will leave their bases in Okinawa, with about 5,000 transferred to Guam and the rest spread among other locations in the region.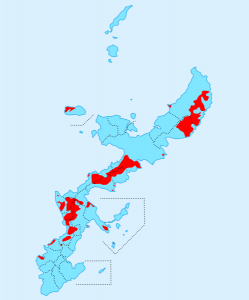 Contrary to the narrative in the media, the closure of five bases and transfer of 9,000 troops off the Japanese island of Okinawa is not anything like a withdrawal or a drastic pullout. There will still be 9 bases and 17,000 marines remaining on the island and over 30,000 U.S. troops in Japan overall.
Up to 85% of the Okinawan population wants U.S. troops out. Not only do they not want to be occupied by a foreign military, but they're fed up with the outrageous behavior of the American Marines. Between 1972 and 2009, there were 5,634 criminal offenses committed by US servicemen, including 25 murders, 385 burglaries, 25 arsons, 127 rapes, 306 assaults and 2,827 thefts.
The newly announced plan is part of an agreement from 2006, when the U.S. and Japan agreed to transfer 8,000 U.S. Marines from Okinawa to the island of Guam and to relocate the Futenma Air Station to another part of Okinawa. The plan stalled for years due to resistance from Okinawans who would not agree to the new location of the airbase.
The 2006 plan was stalled also due to resistance from the people of Guam. "U.S. military base expansion in Guam," Brown University Professor Catherine Lutz said, "has faced much local resistance including lawsuits and protests largely because of land taking, disruption of sacred sites and concerns about environmental damage."
Washington's renewed focus on Asia is part of the Obama administration's 'strategic pivot' to the surge America's military and naval presence in Pacific region in a misguided effort to contain China's rising influence. This includes not only Japan and Guam, but South Korea, the Philippines, Singapore, Australia, et al.