With Iraqi Prime Minister Nouri al-Maliki centralizing power at an alarming rate, few are willing to openly talk about the next premiership. Iraqi MP Hakim al-Zamill, however, made it clear today that the Sadrist Trend was keen to take the spot.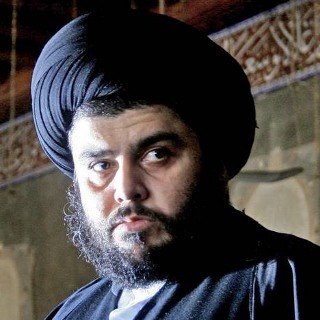 The trend itself holds only 40 of parliament's 325 seats, but also commands another 30 seats within the Iraqi National Alliance (INA). It is the INA's tacit support that allowed Maliki another term as premier, but with political crisis threatening to tear Iraq apart at the seams, an ouster of Maliki could eventually be explored, and if the INA was able to secure the support of the Iraqiya bloc, it would be politically trivial to do.
Removing Maliki could be harder than it seems, however, as he is not only the prime minister but the acting Interior Minister, Defense Minister, National Security Minister and chief of military staff. This gives him de facto control over the entire national army and police force.
Replacing Maliki with a member of the Sunni dominated Iraqiya bloc would be politically untenable in the Shi'ite majority nation, moreso since some of its top members are in exile after Maliki branded them terrorists. Sadr, however, commands massive support among Shi'ites, and his brand of religious nationalism might be better suited to unify the country than Maliki's.
Zamill was quick to say that no formal demand had been made, but even raising the prospect suggests some private talks are almost certain to have taken place, and this could be a private reason for Sadr's visit to Iraqi Kurdistan. Though it is too soon to imagine who might be the Sadrist PM, current parliament speaker Osama al-Nujaifi or the popular Qusay al-Suhail would likely be frontrunners.