Adding to the hope that the constant threats of war are empty ones, Israeli military chief Lt. Gen. Benny Gantz today expressed confidence of a diplomatic solution with Iran, adding that he didn't think Iran would attempt to develop nuclear weapons.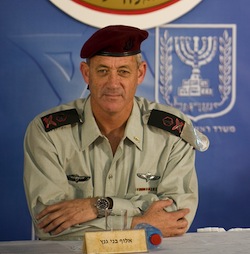 The comments, made in a high profile interview with Israeli newspaper Haaretz on the occasion of Israeli Independence Day, also include an admonishment to avoid "hysteria" about Iran's program. This probably won't sit well with the nation's civilian leadership, which is constantly claiming Iran is "close" to nuclear weapons capability.
The interview in the Israeli press was in stark contrast to Prime Minister Benjamin Netanyahu's interview with US media outlet CNN, in which he insisted that there were no questions about Iran's nuclear weapons program and that the international sanctions had "better work soon."
Netanyahu and other Israeli officials have been expressing anger at the ongoing diplomatic negotiations with Iran, insisting that they have no hope of working. Defense Minister Ehud Barak even claimed last week that Israel might launch an attack while the negotiations were ongoing, saying that talking to the P5+1 didn't "exempt" Iran from attack.