The U.S. embassy in Kenya warned Monday of a possible attack by al-Shabab militants on Nairobi hotels and key government buildings, as a U.S.-backed proxy war continues to plague eastern Africa.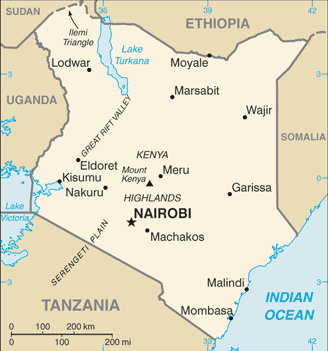 "Timing of the attack is not known, however, the embassy has reason to believe that the potential attack is in the last stages of planning," the embassy said in a statement. The Kenyan chief of police responded, saying, "We have to use all the possible means to avert any attack."
Kenya has seen increased militant and terrorist attacks since it sent troops into southern Somalia in October to fight the al-Qaeda-linked Shabab fighters. Washington has lent military assistance to Kenya in its invasion into Somalia, as well as the African Union's broader military effort in Somalia.
Al-Shabab claims to be fighting a guerrilla war against foreign troops. Increased intervention from a contested Somali government, encroaching African Union troops, and largely covert American action has bolstered their stature and prompted al-Qaeda to officially align with the previously weak group.
The embassy warning of a terrorist attack in Kenya draws memories to the 1998 al-Qaeda bombing of the U.S. Embassy in Nairobi, killing 213 people, including 12 Americans. According to journalist Lawrence Wright, author of Looming Tower: Al Qaeda and the Road to 9/11, the late al-Qaeda leader Osama bin Laden told his followers the attack was a response to U.S. intervention in Somalia. Almost 14 years later, the same dynamic is taking place.
Not only have African Union soldiers been waging a war for control of Somalia, but the U.S. is giving weapons, intelligence, and legitimacy to thugs and murderous warlords in Somalia, some of whom used to be fighters for the very militants the U.S. now has them fighting against.
"One can legitimately argue that … Somalia's enduring 'failed state' existence has been because of international community involvement, the precise opposite of Cameron's argument that it has been ignored," said Hannah Waddilove, Africa analyst with security firm AKE, in February.
But even the Obama administration has quietly acknowledged the fact that their military involvement in Somalia may create more problems than it solves, with one administration official telling the Washington Post in December there is a "concern that a broader campaign could turn al-Shabab from a regional menace into an adversary determined to carry out attacks on U.S. soil."