The Obama Administration has announced that it is cancelling all food aid to North Korea to punish the nation's regime for its failed attempt to put a satellite into orbit yesterday. White House spokesman Jay Carney said it was "virtually impossible" to provide North Korea food after the launch.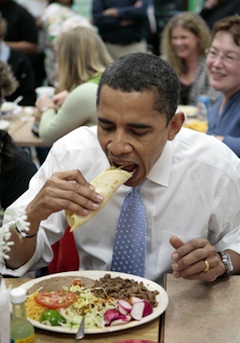 National Security Council spokesman Ben Rhodes went on to say that the US was considering additional sanctions against North Korea for its "provocative actions." A G8 statement also raised the possibility of pushing more sanctions at the UN Security Council.
Past UN resolutions banned North Korea from developing long-range missiles, but made no distinction between military missiles and a civilian space program. Sen. Jon Kyl (R – AZ) claimed the failed launch amounted to a threat on American cities.
Obama had threatened to pull all food aid from North Koreans last month during a visit to South Korea. He said it was important for the North Korean government to understand that "bad behavior will not be rewarded." Since the food aid deal was originally aimed at convincing North Korea to halt its nuclear program, its revocation could well push North Korea back into weapons development.