The law that made it possible to prosecute civilians in military courts could be one step closer to Supreme Court review, after appellate courts have wrestled with the case of the Iraqi-born civilian contractor Alaa "Alex" Ali, who was tried and imprisoned by the U.S. Army.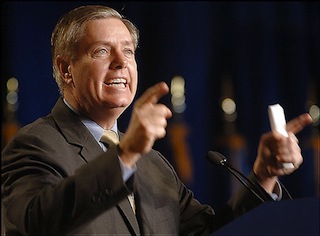 "It's a significant case, in that it's the first time a civilian has been tried in a regular court-martial since the Vietnam War," said lawyer Michael J. Navarre. The 2006 amendment that legalized civilian court-martials was authored by Sen. Lindsey Graham, (R-SC).
Born in Baghdad, Ali moved to Canada in 1992 and in 2007, he joined L-3 Communications, a U.S. defense contractor, to serve as an interpreter to U.S. troops. After a fight with another interpreter in 2008, Ali pleaded guilty obstructing justice and lying to investigators, and put in jail for 115 days. Courts are now deciding whether the military had a right to try Ali as a civilian.
Defenders of the law say that Ali was effectively a soldier. "He was deeply embedded with the armed forces in an area of actual fighting," Army Capt. John D. Riesenberg declared in a court brief. "He wore the same uniform, ate the same food, slept in the same tents and faced the same constant dangers from the enemy."
Broadening the military's power to conduct trials on civilians and impede the traditional form of justice they're afforded is not new for Sen. Graham. Indeed, he was one of the foremost supporters of the amendment in the 2011 National Defense Authorization Act which declares all terror suspects enemy combatants to be tried in military courts, even U.S. citizens.
A two-tiered justice system seems to have been embedded in the American system since the start of the war on terror, but some fear this case may not make it to the Supreme Court. Navarre cautioned that "practically speaking" the military prosecution of civilians may still be too infrequent to compel Supreme Court action.