Yesterday's State Department announcement that it is offering a $10 million bounty for the "capture" of Hafiz Mohammed Saeed, the head of the banned Pakistani charity Jamaat-ud Dawa, took a new turn when the Pakistani Foreign Office rejected the bounty.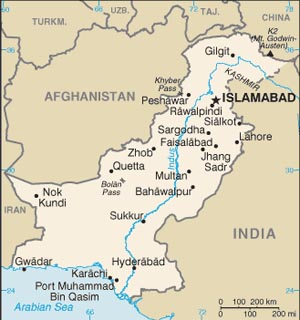 Foreign Ministry spokesman Abdul Basit said that the Pakistani government would be open to arresting Saeed, but only if the US offered some actual concrete evidence of wrongdoing.
The State Department was quick to respond, saying that it does not have "concrete evidence" but that it is "trying to get information that can be used to put this gentleman behind bars." Needless to say, that's probably going to require some effort.
Saeed also addressed the bounty today during a public appearance in Rawalpindi. "Here I am in front of everyone, not hiding in a cave," Saeed said, joking that he thought the US should pay him the bounty instead.
The bounty accuses Saeed of being behind the 2008 terrorist attacks in Mumbai. Pakistan actually put him under house arrest when India claimed the same thing in 2009, but were eventually forced by the courts to release him over lack of evidence.
Saeed has denied any involvement in the attacks, and the sudden US interest is seen by many as a function of his recent involvement in high profile anti-US protests, giving speeches condemning the US drone strikes.