Libya's interim government on Saturday announced a ceasefire, as six days of deadly tribal clashes that cost more than 150 lives finally calmed and another episode of carnage resulting from the NATO-backed regime change petered out.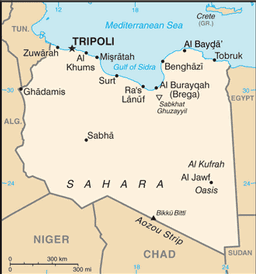 "We haven't slept since yesterday. The Toubou have been attacking Sabha since three in the morning, and they very nearly took the city. All the residents have taken up arms to defend it," Dr Abdelrahman al-Arish told AFP.
Fighting between Toubou tribal militants and Arab tribesmen erupted on Monday after Arab tribesmen accused the Toubou of killing one of their own. Libya's health minister Fatima al-Hamrush gave a toll of at least 147 killed and 395 wounded by late on Friday, but an extra 16 people were killed on Saturday before the truce was brokered.
"Now the situation is calm, and defence ministry forces are securing strategic zones and installations, notably the airport," said Yussef al-Mangush, chief of staff of the new Libyan national army.
But the ceasefire seems fragile at best, as some residents claimed fighting was ongoing and defence minister Osama Juili  warned, "We will not permit any party to violate the ceasefire."
The clashes illustrate the instability still lingering throughout Libya ever since NATO's intervention and the inability for the interim government to gain more than a tenuous hold on power and overall security.