The Philippines will grant Washington greater military access in exchange for more military equipment, training and funding, as part of the Obama administration's effort to expand and strengthen the empire in Asia to counter a rising China.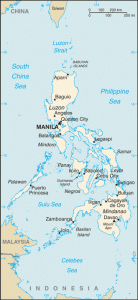 Washington is offering the Filipino government a huge new warship and possibly a squadron of F-16 fighter jets on the condition that the U.S. military can gain a larger presence and make use of military bases in the Philippines.
"As part of building up our minimum credible defense posture, we would like the Americans to come more often," the Philippines Foreign Affairs Secretary Albert del Rosario told Reuters. "Let's have these joint training exercises more frequently and on a bigger scale. As many times as we can, in different places if we can, that's the objective of the exercise," he added.
American reach has been widening in the Philippines for years now, but especially in recent months. In February, Washington launched a drone strike in the southern Philippines that reportedly killed 15 people associated with Islamic militant groups.
The airstrike prompted angry reactions from some in the Philippines weary of U.S. breach of their sovereignty. One Philippine representative, Luz Ilagan, called for an end to U.S. military intervention in their national affairs.
Ilagan also called for a probe into what she referred to as the "extensive and intensive intrusion of the U.S. military in Armed Forces of the Philippines (AFP) operations". She added, "If these reports are true, then U.S. troops are participating in and conducting operations beyond what is allowed in the Visiting Forces Agreement and directly transgressing our sovereignty. More importantly, their participation in these operations is a potential magnet for the Philippines' participation in a brewing U.S.-instigated regional conflict."
The U.S. Visiting Forces Agreement forced the closure of major U.S. military bases in the 1990′s and prohibits the U.S., the country's former colonial ruler, from establishing a military presence. But the U.S. has not gone away since then. A 1999 agreement allowed hundreds of American troops to return in 2002 to train and arm Filipino soldiers fighting domestic militants allegedly linked to al-Qaeda.
U.S. support and military involvement to the Philippines has been misused by the Filipino government against its own citizens.. Numerous embassy cables released by WikiLeaks acknowledge extrajudicial killings, abductions, and false arrests perpetrated by the U.S.-trained and funded security forces.
Greater U.S. involvement in the Asian country and surrounding areas are part of a broader imperial plan to counter China's regional influence and are likely to unnecessarily provoke China and increase tensions.