Speaking today following a meeting with his Canadian and Mexican counterparts, Defense Secretary Leon Panetta dismissed the recent polls showing a supermajority of Americans opposed to continuing the occupation of Afghanistan, saying that the US already has the "best strategy" for the war and will continue on with it despite what the polls say.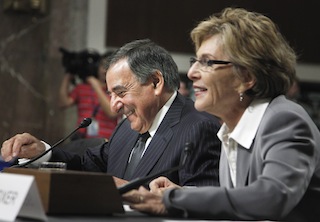 "I think the American people understand why we're engaged in Afghanistan. 9/11 represented an attack on our country," Panetta said. The poll actually touched on this, with a majority of respondents saying that since the death of Osama bin Laden they aren't really clear what the "mission" of the occupation is anymore.
"Polls are for dogs," insisted Canadian Defense Minister Peter MacKay, saying he considered 9/11 to be "an attack on Canada." Canada has withdrawn most of its troops from Afghanistan already, but has a small training team still on the ground.
Panetta's predecessor, Secretary Robert Gates, and Secretary of State Hillary Clinton both mocked the idea that public opposition could have any impact on the war. The Obama Administration's stance has not changed, despite massive protests in Afghanistan and overwhelming opposition among US voters, but with elections coming up the war may well become an issue, in Congressional races if not the presidential vote.