Rebel troops have toppled the democratically elected government in Mali after Tuareg rebels in the north returned home from fighting as mercenaries for ousted Libyan leader Muammar Gadhafi.
Late Thursday, Tuareg combatants fought a weakened government as the rebel troops in the capital sought to complete their coup by arresting the president.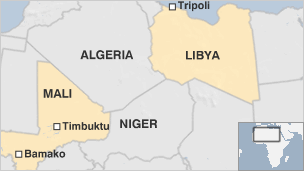 Mali's Tuaregs have long clashed with the southern government and had been fighting an ongoing insurgency for years. Gadhafi had hired and armed many of the fighters to defend him against the NATO-backed rebellion in Libya, and they returned to Mali at the Libyan war's end to form the strongest Tuareg-led rebel group yet – the Azawad National Liberation Movement (MNLA).
Mali's army had grown upset with President Amadou Toumani Toure for not arming them sufficiently enough to quell the Tuareg fighters and staged a mutiny on Wednesday which turned into a coup on Thursday. The coup's leadership has imposed a national curfew and announced the suspension of the constitution at least until the Tuareg rebellion can be subdued.
A UN report released in February assessing "the Libyan crisis" claimed that the impact of the NATO-backed rebel victory over Gadhafi "reverberated across the world" as "such neighboring countries as…Mali," among many others, "bore the brunt of the challenges that emerged as a result of the crisis."
"The Governments of these countries, especially those in the Sahel region, had to contend with the influx of hundreds of thousands of traumatized and impoverished returnees as well as the inflow of unspecified and unquantifiable numbers of arms and ammunition from the Libyan arsenal," the report said.
"The Libyan crisis didn't cause this coup but certainly revealed the malaise felt within the army," the Malian newspaper columnist Adam Thiam told the BBC News. "President Amadou Toumani Toure hasn't been active in tackling drug trafficking and al-Qaeda fighters, and the emergence of new rebel movements only added to the soldiers' frustration."
Apart from the extremely troubling aftereffects of the U.S.-led regime change inside Libya, NATO can now count among the consequences of its intervention a military coup in a neighboring democratic country.