Soldiers from the Malian military have taken control of the nation's state television and radio today, and launched attacks on the presidential palace in what is being called an attempted coup d'etat.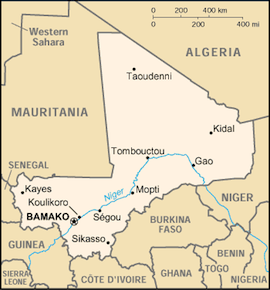 The violence followed a visit to a major military base by Mali Defense Minister Sadio Gassama, in which he attempted to calm growing complaints about the government's mishandling of the ongoing secessionist war against Tuareg tribesmen in the far north.
The Tuareg rebels had been fighting the government off and on for years, but got a major boost after the Libyan Civil War, when a number of Tuareg fighters employed as mercenaries for the Gadhafi regime returned, with weapons.
Since then the Tuaregs have taken a number of towns in the far north and the group has ambitions on establishing an independent Republic of Azawad out of the region. Though the Mali military had previously been able to tamp down such rebellions fairly easily, the failure to do so this time has many of the soldiers up in arms, and apparently taking it out on the civilian leadership.