Ethiopian troops crossed the border into neighboring Eritrea today, bringing the two nations to the brink of their first major war in over a decade. Ethiopian officials say that the attack was a response to "subversive groups" being trained by the Eritrean government.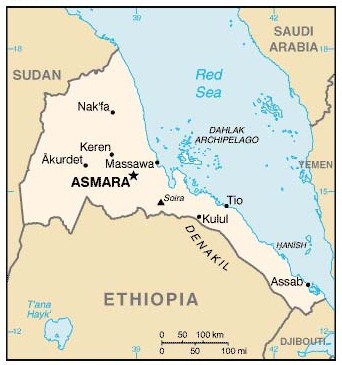 The attack targeted an Eritrean military post near the border, which the Ethiopians termed a "terrorist camp." Ethiopian government spokesman Shimeles Kemal says that the attack could be just the first of many, and that Eritrea is "too weak" to retaliate.
Eritrea denied backing any terrorists or subversives, and said Ethiopia's internal problems were a function of its "marginalization and exclusion" of minor groups in the nation. They added that the cross border attack was an attempt to divert attention from internal strife, as well as to distract from its continued refusal to implement the UN-backed border commission's rulings and allow the disputed town of Badme to become part of Eritrea.
The US has issued a vague call for "restraint" on both sides, with the State Department saying that it will seek clarification from Ethiopia on exactly what its intentions are with the attack.