Former Pennsylvania Govenror Ed Rendell's second term in office may have come to an end in early 2011, but he's back in the headlines today, confirming that the Treasury Department has subpoenaed records of payments received at speaking engagements, with particular interest in a number of speeches he gave on behalf of a terrorist organization.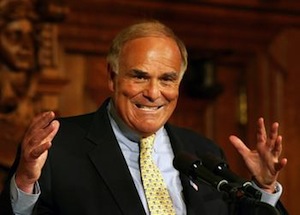 Rendell repeatedly spoke on behalf of the Mujahedin-e Khalq, a State Department listed terrorist organization, though it is not yet apparent from the investigation whether he was paid directly for those speeches. The former governor insists he "did nothing wrong" and promised to cooperate with the probe.
Taking funds to work on behalf of a terrorist organization is generally illegal, the State Department noted, though it refused to comment on the specifics of the Rendell case. Even if Rendell wasn't paid, the 2010 Holder v. Humanitarian Law ruling would seem to criminalize speeches on their behalf.
Rendell is hardly alone in this regard, however, as the MeK has bought off a large number of national security officials, offering them as much as $20,000 for a 20 minute speech endorsing the group and demanding that it be removed from the terrorist list.
Historically the MeK has launched a number of attacks against US targets, and the group has been on the State Department's list of terrorists since the list was first created. The group's deep pockets and recent ties to terror attacks inside Iran have made it the darling of a certain segment of hawks, and some have argued in favor of delisting them for the sheer benefit of it constituting a "provocative" action against Iran.