Ten months after the Ansar al-Sharia took control over the Abyan provincial capital of Zinjibar in southern Yemen, the region is still heavily contested. Today, the military confirms major clashes took place just west of Zinjibar, when al-Qaeda in the Arabian Peninsula (AQAP) fighters overran a military base.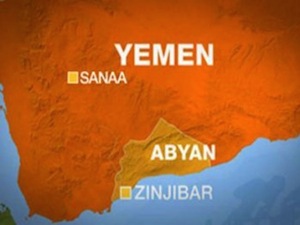 The statement from military officials says that the AQAP fighters started the attack by detonating "booby trapped vehicles" at the base, and then stormed the base. The fighting left 78 Yemeni soldiers and 28 of the AQAP fighters dead. Scores of wounded were reported on both sides.
Perhaps the most humiliating aspect for the new Yemeni government, however, are reports that 55 soldiers were captured by the AQAP fighters and were paraded through the center of Zinjibar.
Though fighting in the region never really stopped, and the regime never really regained control in any serious way, this is the deadliest incident since June of last year, when a multi-day, failed offensive against Zinjibar left over 100 Yemeni soldiers dead.
Abyan is not a particularly important province in and of itself, but its close proximity to the key southern city of Aden makes it strategically valuable. Fighters from Ansar al-Sharia attacked US ground troops in Aden late last week in their first reported exchange with US forces and indeed the first time the US admitted to having ground troops in Yemen.