Afghan President Hamid Karzai is not backing down from his two demands for a strategic deal in negotiations with the U.S., steadfastly  calling for Afghan control of jails and an end to night raids on Afghan homes.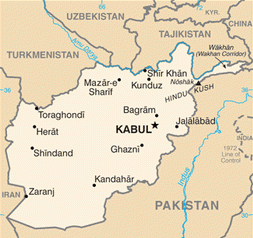 The Obama administration has been working on a negotiated settlement with Karzai for what the American role in Afghanistan will be once the U.S. withdraws the bulk of its occupation forces sometime in the next two years. The U.S. has consistently demanded they retain control of Afghanistan's prisons and that they continue to perform night raids with Special Operations forces, who are supposed to take a leading role in terrorizing Afghanistan after the drawdown.
The Obama administration want to have the deal settled before May, when a NATO conference in Chicago is expected to lay out a way forward in the U.S.-Afghan relationship. But Karzai continues to hold firm on these two central demands. Aside from them, Karzai has agreed allow significant numbers of U.S. forces to stay in some large bases throughout Afghanistan, to train Afghan soldiers and police, and to launch drone attacks into Pakistan from bases inside Afghanistan.
"No Afghan [prisoners] should be in the hands of foreigners, and foreign troops should hand over all the jails they have now to the Afghan government, and stop the night raids," Karzai recent told NATO Secretary General Anders Fogh Rasmussen.
"If they don't change their position there will be no strategic partnership before Chicago," said a senior Afghan official familiar with the negotiations. "We are not willing to compromise when it comes to sovereignty." He added: "The Afghan government, especially the Afghan president, is under a lot of pressure from all sides – there are some indirect threats being made as well."