Two U.S. soldiers were shot dead in southern Afghanistan on Thursday by an Afghan soldier and apparently an Afghan civilian, in the latest incidence of supposed NATO allies turning on occupation forces.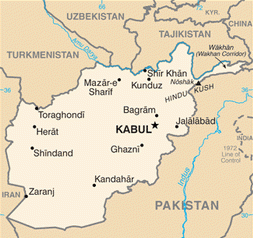 The Afghan soldier involved in the attack was a platoon leader and the civilian was an Afghan literacy instructor at the military base. "We believe that both of the attackers had links with the Taliban," said Masoom Khan, the Afghan district chief of police. The gunmen fled after killing the two soldiers, but were chased and later gunned down by helicopter fire.
Six Americans have now been killed and at least 15 wounded in attacks in Afghanistan since the news that the U.S. military burned copies of Muslim holy books. Dozens of Afghans have been killed and wounded by U.S.-supported Afghan security forces trying to quell protests.
The events of this week have highlighted the distrust between occupation forces in Afghanistan and locals supposed to have been on the side of NATO and Kabul. The Obama administration's mission in Afghanistan hinges on training Afghan security forces to act as an effective proxy so that the U.S. can withdraw. But virtually every facet of the strategy in Afghanistan is falling apart after nearly four years of failure under Obama's direction.