U.S. Secretary of Homeland Security Janet Napolitano defended Washington's failed war on drugs and vowed to continue to support brutal Latin American governments claiming to combat the producers and traffickers of narcotics.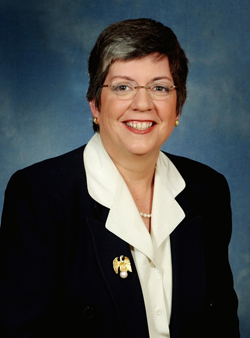 At a joint news conference with Mexican Interior Minister Alejandro Poire, Napolitano was asked why Joaquin "Shorty" Guzman, the leader of the powerful Mexican drug cartel Sinaloa, had not yet been captured.
Napolitano compared Guzman to Osama bin Laden. "It took us 10 years to find Osama Bin Laden and we found him," she answered.
But the fact that certain big name cartel bosses have not yet been caught or killed has nothing to do with the failure of the drug war. Domestically, the drug war has been the source of social decay, wasting of taxpayer dollars, and the most comprehensive civil liberties infringements.
In the realm of foreign policy, the drug war has provided a pretext for supporting Latin American regimes with horrendous human rights abuses. The U.S. has trained and supported heinous paramilitary groups from Colombia to Guatemala to Honduras. And by implementing prohibitionist policies throughout the region, the U.S. has strengthened the power of cartels and influenced their own unspeakable violence.
In Mexico, which Napolitano spoke about specifically, the U.S. pushed for over-reliance on harsh law enforcement and militaristic approaches to the drug war resulting about 50,000 deaths in just five years. "Instead of reducing violence, Mexico's 'war on drugs' has resulted in a dramatic increase in killings, torture, and other appalling abuses by security forces, which only make the climate of lawlessness and fear worse in many parts of the country," said José Miguel Vivanco of Human Rights Watch.
The war on drugs has been an utter failure and has deteriorated the lives and liberties of people all over the Americas and beyond. Numerous Latin American leaders have recognized this, but U.S. policy appears to be steadfast nonetheless.