U.S.-supported militias in Somalia are recruiting and abusing child soldiers along with al-Shabab militants, according to a recent report from Human Rights Watch.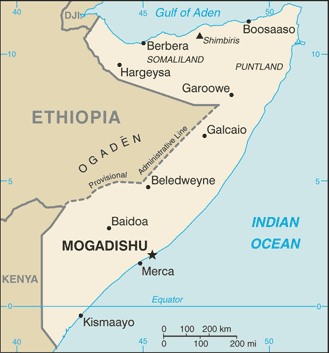 The report is based on 164 interviews with Somali children who have been abducted, recruited, raped, and attacked by the al-Qaeda-linked Islamist group al-Shabab and by militia groups associated with Somalia's U.S.-backed Transitional Federal Government (TFG). The U.S. has been supporting various militia groups in Somalia to fight al-Shabab, although a clear distinction between the groups is not obvious.
"Al-Shabaab's horrific abuses do not excuse Somalia's Transitional Federal Government's use of children as soldiers," said Zama Coursen-Neff, deputy children's rights director at Human Rights Watch. "The TFG should live up to its commitments to stop recruiting and using children as soldiers, and punish those who do. Governments backing the TFG should make clear that these abuses won't be tolerated."
The US is giving weapons, intelligence, and legitimacy to thugs and murderous warlords in Somalia, some of whom used to be fighters for the very militants the U.S. now has them fighting against. The U.S.-sponsored African Union force, currently occupying large swaths of Mogadishu, was included in the Human Rights Watch report condemning widespread abuse of children by Somalia's warring parties.
Supporting proxies in Somalia is only one element of a much broader policy in East Africa, however. The U.S. is also believed to be supporting the Kenyan military in its assaults on southern Somalia for many months now. Additionally, the Obama administration sent about 100 combat troops to Uganda, Somalia's neighbor to the west, to fight the rebel group Lord's Resistance Army in exchange for Ugandan troops keeping up the fight against al-Shabab.
After al-Qaeda formally merged with al-Shabab this month, the U.S. has been considering sending more support to these proxies. But even the Obama administration has quietly acknowledged the fact that their military involvement in Somalia may create more problems than it solves, with one administration official telling the Washington Post in December there is a " concern that a broader campaign could turn al-Shabab from a regional menace into an adversary determined to carry out attacks on U.S. soil."