A U.S. drone fired two missiles at a house in Pakistan's northwest tribal region on Thursday, killing three people and wounding three others, according to Pakistani intelligence officials.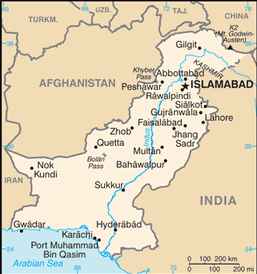 The attack was the second strike in two days, with another on Wednesday that killed 8 people. The back-to-back strikes could signal a complete end to the hiatus that occurred after American airstrikes killed 24 Pakistani soldiers in November. The Obama administration halted drone strikes for about six weeks, and has slowly restarted them since January.
The identities of the 11 people killed in two days are not known publicly. U.S. policy is typically to refer to anyone who has been killed by drones as "terrorists," whether they are or not.
The drone program kills large numbers of civilians and creates significant tension between the U.S. and Pakistani governments. Islamabad demanded Washington stop bombing their country immediately after the political fallout resulting from the November airstrikes on Pakistani outposts.
The Obama administration has launched hundreds of strikes in the past few years, despite the drone campaign resting on very shaky legal and moral ground. Naz Modirzadeh, Associate Director of the Program on Humanitarian Policy and Conflict Research (HPCR) at Harvard University,  was interviewed by the Bureau of Investigative Journalism and said killing people at a rescue site may have no legal justification.
"Not to mince words here, if it is not in a situation of armed conflict, unless it falls into the very narrow area of imminent threat then it is an extra-judicial execution," she said. "We don't even need to get to the nuance of who's who, and are people there for rescue or not. Because each death is illegal. Each death is a murder in that case."