Violence and government repression of reform-minded protesters in Bahrain has escalated ahead of the February anniversary of the uprisings, as the Obama administration moves ahead with arms shipments to the despotic dictatorship.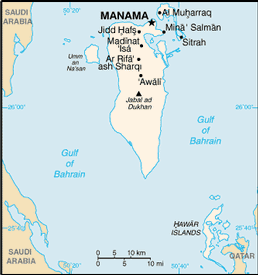 Defiant Bahraini protesters have continuously taken to the streets to face off with government security forces. After firing live rounds on unarmed protesters last year, killing dozens, the Bahraini government allowed Saudi troops to invade and crush the uprising. Martial law was imposed before international condemnation pressured the regime to let up, if only slightly.
Since then security forces have relied more heavily on tear gas and batons. But researchers and activists on the ground say the killing has continued and the regime's security tactics have stiffened.
The Bahrain Youth Society for Human Rights claim to have documented 60 additional deaths over the past year. Rather than take protesters to police stations, security forces have been beating them on the spot or holding them for in informal detention centers where they are severely beaten before release. Testimonies of victims have been collected and numerous people are reported to have died while in custody.
An independent commission in Bahrain recently found that torture has been systemic since protests broke out last year. The commission urged reform, but the United Nations has recently said that Bahrain was failing to prosecute human rights abuses and was continuing its use of excessive force against civilians.
Meanwhile, the Obama administration has quietly moved forward with a new package of arms sales to the regime in Bahrain, after international pressure forced them to delay its planned $53 million arms sale. Using legal loopholes that only require congressional authorization for sales of $1 million or more, the administration split the arms package and moved forward with the new sales without notifying the public.
Human Rights Watch has condemned Obama's support for this repression, saying in a press release that the "decision to move forward on a $1 million arms sale to Bahrain sends the wrong signal to a country that is engaged in serious human rights abuses."
"Bahrain has made many promises to cease abuses and hold officials accountable, but it hasn't delivered," said Maria McFarland, deputy Washington director at Human Rights Watch. "Protesters remain jailed on criminal charges for peacefully speaking out and there has been little accountability for torture and killings – crimes in which the Bahrain Defense Force is implicated."
U.S. support for Bahrain has remained assertive throughout its violent repression of Arab Spring protesters, allocating another $26 million in aid for 2012. Bahrain is the host of the U.S. Navy's Fifth Fleet, which directs operations in the Persian Gulf and patrols the Straits of Hormuz, through which 40 percent of the world's seaborne oil passes.