Speaking to reporters today, Egypt's junta-appointed Prime Minister Kamal el-Ganzouri defended the judiciary's moves against American NGO employees and lambasted the US for threatening to revoke its aid.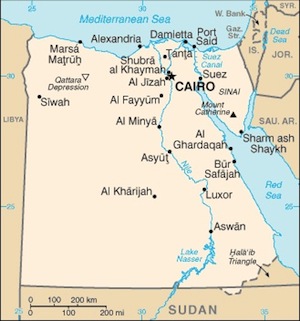 Ganzouri insisted the treatment of the NGOs and their employees was the "legal right" of the junta, which "can't back down or won't change course because of some aid." The US aid amounts to about $1.5 billion annually.
Ganzouri also said various Arab governments have not followed through on their pledges of aid in the wake of Mubarak's ouster, suggesting the US and its allies were punishing Egypt for "more independent policies."
The NGO row is somewhat complex. In December, the junta raided US government-funded NGOs backing certain pro-US parties in the election. The NGOs were accused of dodging taxes as well as receiving foreign funding illegally.
At the center of these assorted NGOs' efforts were two US organizations, the International Republican Institute (IRI, headed by Sen. John McCain) and the National Democratic Institute (NDI, headed by former Secretary of State Madeline Albright). These two groups wield significant political clout in the US and aim to ensure their freedom to peddle influence in Egypt.
The junta's crackdown broke with a long-standing tradition of giving US workers a wide berth, and the Egyptian regime has now filed charges against 19 Americans, including local IRI leader Sam LaHood, the son of a US cabinet member, Transportation Secretary Ray LaHood.
Normally a minor slight could be handled behind the scenes by political leaders, but this time matters appear to have gotten away from them. The US will likely not relent in its demands, but it will be hard for the Egypt junta to back down now that so much has been made of the matter.