At least 10 people have been killed and more than 20 people injured after a car bomb exploded near a cafe in Somalia's capital, Mogadishu.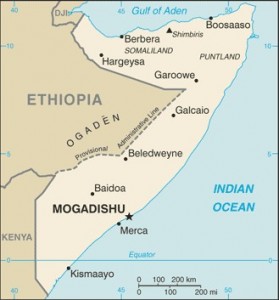 Somali authorities have called it a suicide attack, and although no group has officially taken credit for it the vehicle was parked outside a hotel often frequented by Somali politicians and which was itself the target of an attack by militants in August 2010.
The al-Qaeda-linked Islamist militant group al-Shabab has carried out several suicide attacks in Mogadishu after being pushed out last August by troops from the Somali government and African Union troops. The U.S. has been supporting Somali and African Union troops to fight al Shabaab, in addition to States other military initiatives including covert and special forces operations and a drone war.  The U.S. is also running CIA blacksites as prisons and supporting thuggish militias to fight al-Shabab.
In a recent piece in Foreign Affairs, professor of international affairs at Qatar University Afyare Abdi Elmi and journalist Abdi Aynte argued "military involvement in Somalia has been counterproductive" and that "the time is riper than ever" for negotiations with the militants.
Even the Obama administration has quietly acknowledged the fact that their military involvement in Somalia may create more problems than it solves, with one administration official telling the Washington Post that there is a " concern that a broader campaign could turn al-Shabab from a regional menace into an adversary determined to carry out attacks on U.S. soil." Nevertheless, the strategy shows no signs of changing.