Two days of fighting in the Hajjah Province of Yemen have left at least 55 people dead and scores wounded, potentially setting the stage for a massive sectarian blow-up in the far northern regions of the country.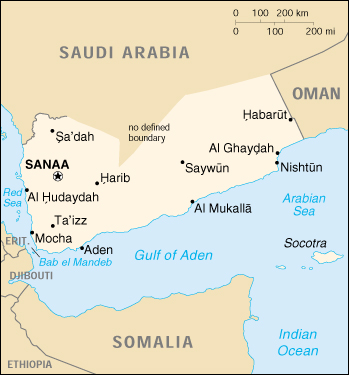 The fighting is a continuation of sectarian clashes from late last month in Hajjah between the Shi'ite Houthi movement and the mostly Salafist tribesmen of the area. The latest round of fighting was reportedly started by the Houthis, who attacked tribal-held territory in Kashar.
The fighting came in the wake of Saturday's Mawlid an-Nabi festival, during which tens of thousands of additional Shi'ites flocked to the area and the Houthis reinforced their positions, expecting a fight. The exact cause of the fighting, which began Sunday, is still unclear.
But the Houthis have already announced that they are boycotting the single-candidate elections in Yemen, which are set to install US-backed Major General Abd-Rabbu Mansour Hadi, and are setting up a "caretaker government" of their own in the northern provinces they control.
The Houthis have fought several secessionist conflicts against the Saleh regime, which is overwhelmingly supported by the Salafist factions, and Saudi Arabia is urging the Yemeni government to move against the Houthis once again, fearing the consequences of an independent Shi'a statelet on their southern border.