In a high profile pre-Super Bowl interview on NBC, President Barack Obama attempted to calm fears of an impending war with Iran, saying that Israel hadn't yet decided on whether to attack Iran, but assuring that the US was committed to remaining "in lockstep" with Israel whatever it decides and describing Israel's security as his "top priority."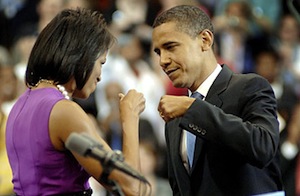 Alhough Obama insisted that he personally prefers a diplomatic solution to the endless dispute with the Iranian government, his comments suggest that the decision is really Israel's to make. He refused to say whether Israel had been warned against starting the war or even whether Israel intended to inform the US before starting it.
Even as Obama was committing the US to the war, he sought to assure that the US would not be significantly affected by it, insisting there was "no evidence" that Iran even had the theoretical capability to retaliate against the United States if war broke out. Iranian Supreme Leader Ayatollah Khamenei has warned that if the US attacks it would "harm America."
Though Israeli officials have repeatedly threatened to attack Iran in recent days, most suggestions that Iran poses a real threat have come from US politicians. Former Sen. Rick Santorum used a campaign stop in Missouri last week to warn that Iran had designs on a nuclear attack against the state.