In a national "Day of Mass Action," Americans protested a seemingly imminent U.S. war against Iran in over 60 cities and towns across the country.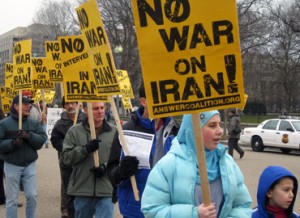 In San Francisco, about 600 people participated in the demonstrations, picketing and chanting "No war, no sanctions, no intervention, no assassinations." Over 500 protesters did the same in New York city and approximately 400 showed up in Los Angeles.
Hundreds more demonstrated in Chicago, Albuquerque, Boston, Des Moines, Kalamazoo, Michigan, and many others. In Washington, DC, protesters with the ANSWER Coalition (Act Now to Stop War and End Racism) marched outside the White House holding signs that read "No War on Iran!" and chanting into loud speakers to end U.S. and Israeli aggression on Iran.
Flyers handed out at the DC march asked "Who is the real threat to peace?" and catalogued the facts about Iran's nuclear program being civilian in nature as well as the constant U.S. aggression towards the country, including sanctions, covert operations, and provocative militarism in surrounding territories.
The countrywide protests occurred as the warmongering on the part of the U.S. and Israel reached new heights. Despite the near consensus that Iran is not building a nuclear weapon, the United States has heaped a crippling set of sanctions on Iran, partially to satisfy Israeli concerns and pressure. This is unlikely to have any effect on Iranian nuclear policy and has already had terrible consequences for ordinary Iranians in a struggling economy.
The Obama administration has also bolstered the U.S. military presence in the Gulf region as a bulwark against Iran. "With an eye on the threat of a belligerent Iran," the New York Times reported in October, "the administration is also seeking to expand military ties with the six nations in the Gulf Cooperation Council — Saudi Arabia, Kuwait, Bahrain, Qatar, the United Arab Emirates and Oman."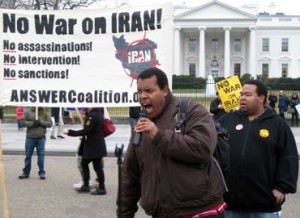 In addition to all of this, the U.S. has been engaged in extensive covert operations against Iran including funding dissident groups that aim to undermine the regime, cyber-terrorism, commercial sabotage, and targeted assassinations of Iranian nuclear scientists.
While many in the military and intelligence communities in both the U.S. and Israel have expressed little interest in another protracted war in the Middle East, the push for war is very strong. The national protests on Saturday consisting of thousands of people are aimed at bringing attention among the public to this dangerous potentiality.