At least 12 people, and by some accounts as many as 15, were killed today in Yemen after being attacked by US drones. The attack targeted vehicles in the nation's contested Abyan Province.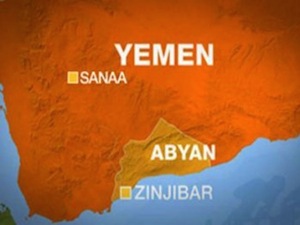 Preliminary reports indicate that one of the slain was a "wanted militant" named Abdel-Munem al-Fatahani, while local tribesmen said four of them were "al-Qaeda leaders" in the area. The targets were apparently affiliated with either the al-Qaeda in the Arabian Peninsula (AQAP) or the Ansar al-Sharia. Reports termed everyone suspects.
The Ansar al-Sharia took over much of the Abyan Province in the middle of 2011. In turn, the Yemeni government responded by launching several offensives in an attempt to retake them. The offensives were extremely bloody, and while the Yemeni military eventually claimed to have taken "most" of the region back, control appears hotly contested.
AQAP confirmed the attack, but insisted that only three members of the group were actually killed, and two others wounded. They did not identify the rest of the dead, but tribal leaders from the area said they did not believe any civilians died in the strike.