The US State Department is threatening to withhold the massive annual aid budget the Obama Administration intends to give the Egyptian military junta this year unless they reverse a judge's decision to block a number of US citizens from leaving Egypt.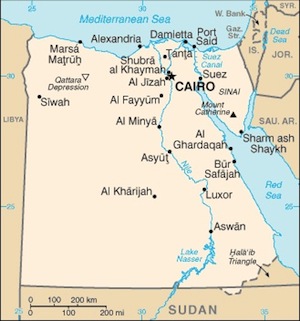 The Americans in question are employees of some of the several US-funded NGOs which were raided by the junta late last month. Attention over the travel bans was considerably increased because one of those blocked, International Republican Institute (IRI) Egypt head Sam LaHood, is the son of an Obama Administration cabinet member, Transportation Secretary Ray LaHood.
According to the junta, the bans were imposed by the investigating judge in the matter. All those barred were either IRI or National Democratic Institute (NDI) employees. Both the IRI and NDI are funded in great measure by the US government, and are staffed by leaders of the Republican and Democratic Parties, respectively.
Needless to say, this increases both the IRI and NDI's considerable political clout in Washington. The IRI's chairman of the board, Sen. John McCain (R – AZ) has loudly condemned the Egypt junta over the investigation, while the junta, itself a huge recipient of US largesse, has bankrolled a major DC lobbying effort to defend its own position.
The State Department insists that Congress has made aid to the junta conditional on "certifications" which have something vaguely related to "democracy" included in them. In practice this likely means that if the junta will let the IRI and NDI buy influence with impunity, they can stay on the US gravy train with everyone else.
Last 5 posts by Jason Ditz