The U.S. is in talks with the government of the Philippines about re-establishing a military presence in the country about two decades after the U.S. closed its bases there.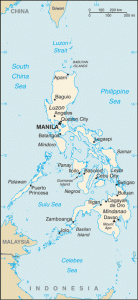 The Obama administration initiated the talks with the aim of increasing  joint war drills in the Philippines as part of a broader imperial plan to counter China's regional influence. He also plans to expand the military presence with bases, troops, and navy warships in Australia and Singapore.
The Philippine Senate forced the closure of major U.S. military bases in the country, but the U.S. military presence in the Philippines has not gone away since then. A 1999 agreement allowed hundreds of American troops to return in 2002 to train and arm Filipino soldiers fighting domestic militants allegedly linked to al-Qaeda.
About 600 U.S. Special Operations Forces have remained in the country in a wasteful imperial project, targeting a militant group that present no threat to the U.S. The Philippines is one of the biggest recipients of US aid in all of Asia, with over $163 million slated for 2012.
During this time and with U.S. support, the Filipino government and security forces have engaged in systematic extrajudicial killings, abduction, and false arrests, as revealed by numerous State Department cables released by WikiLeaks.