Deutsche Presse-Agentur (DPA) reports 62 people were killed in Syria today, including a large number of civilians. DPA cited opposition figures inside neighboring Lebanon, who said most of the deaths came from shelling in Homs Province.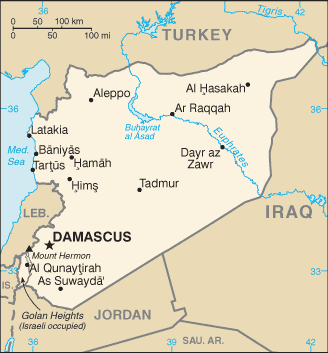 At least 15 combatants were also killed across the nation, including seven members of the "Free Syrian Army" (FSA) deserter force and eight members of the Syrian military killed in ongoing clashes between the two. Fighting was reported on the outskirts of Damascus.
In addition, opposition figures claim that some 800 people have been arrested by the regime, including 600 in Homs and 200 around Damascus. They also claimed the suburb of Douma has been blocked off entirely, with no one allowed to enter or leave.
The Arab League has responded to the reports of continued violence, saying that they intend to take their existing "Yemen solution" plan to the United Nations Security Council, with a meeting expected Monday.
The "Yemen solution" plan would have Syrian President Bashar Assad transferring control over the nation to Vice President Farouk al-Sharaa, one of the longest serving members of the Ba'athist regime. It was modeled after the GCC plan for Yemen, which aimed at replacing Ali Abdullah Saleh with US-backed Major General Abd-Rabbu Mansour Hadi.
Syria's government has already rejected the Arab League plan, but the Arab League is still trying to find a leader for the delegation to push the plan. Former IAEA head Mohamed ElBaradei is said to have rejected the job.
Elsewhere, 11 Iranian pilgrims were kidnapped in Syria by an as yet unidentified opposition faction. Opposition figures have broadcast a forced confession of the pilgrims, claiming they came to Syria to plot against the protesters on the regime's behalf.
Last 5 posts by Jason Ditz