Mansoor Ijaz, the Fox News Analyst at the center of Pakistan's "memogate" scandal, has backed off a pledge to visit Pakistan this week to testify, with his lawyer saying the move came amid concerns for his safety.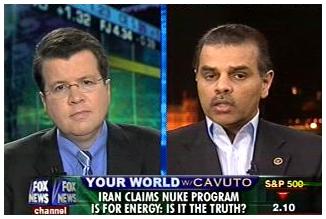 The Pakistani government had given Ijaz, the US-born son of a Pakistani nuclear scientist, a one-year "multiple entry" visa, and as recently as last Friday Ijaz was insisting that he planned to make the trip. He even claimed the US State Department had given him official support for the visit.
Ijaz's testimony is vital to the inquiry because he physically wrote the "coup memo" in question and delivered it to US Admiral Michael Mullen. The memo was alleged to be from President Asif Ali Zardari and asked Mullen for US military help in ousting members of Pakistan's military leadership. Ijaz says the memo was dictated to him by then-Pakistani Ambassador to the US Husain Haqqani, who has since resigned over the scandal.
Pakistan's ruling party has repeatedly accused Ijaz of making the entire memo up himself as part of a personal vendetta against the civilian government. This had raised concerns that Interior Minister Rehman Malik, who would normally be responsible for security on such a visit, would use the opportunity to detain him. The Pakistani military, however, which believes the memo is authentic, has promised to provide security for Ijaz directly.
It is unclear how the inquiry will continue without Ijaz's testimony, though he has reportedly offered to testify if the entire commission agrees to convene a special meeting in London or Zurich.