The Turkish government detained 31 people, including a former member of Parliament, on Tuesday as part of a probe into alleged links between mainstream Kurdish activists and the separatist militants in the southeast.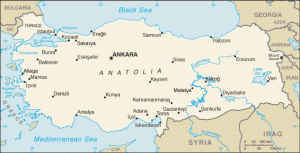 The suspects were grabbed in dawn raids across the country that aimed at the offices and homes of members of the Peace and Democracy Party (BDP), the main party in parliament representing Turkey's Kurdish minority. But the BDP accused the government of trying to crowd out Kurdish representation ahead of planned constitutional reforms.
These tactics come with renewed support from the U.S. government, after Turkey asked for stepped-up assistance in counterterrorism back in September. That request was followed up with a deal secured by the Obama administration to supply the Turkish government with unmanned aerial vehicles, or Predator drones.
Those drones may have been used in Turkish airstrikes in early January that killed 35 Kurdish civilians near the border with Iraq. Turkey has also been accused in recent months of using chemical warfare in its fight with the separatist militants in the Kurdistan's Worker's Party  (PKK), which would be a serious crime under international law.
According to Amnesty International, "anti-terrorism legislation [in Turkey] is particularly problematic in that it is used to bring a large number of prosecutions targeting legitimate free expression regarding the Kurdish issue in Turkey." Amnesty's Howard Eissenstat recently wrote that "some 12,000 Turkish citizens have been arrested under terror statutes" for what appear to be political crimes, "with nearly four thousand arrested in just the last thirty months." Many of these arrests are of leading public intellectuals in Turkey, like Ragip Zarakolu, a human rights activist. He was arrested along with 43 other people on November 1 in Istanbul, apparently for making a political speech at a legal pro-Kurdish party event.
U.S. partnership with Turkey against the southeastern Kurds is not unprecedented. The two states cooperated in major atrocities against southeastern Turkey in the 1990′s, leaving the countryside devastated with tens of thousands killed and millions displaced.