Speaking at the latest Republican Presidential Debate in South Carolina, Texas Governor Rick Perry, whose recent foreign policy comments have included promises to reinvade Iraq and blasting the Obama Administration for criticizing a video of US Marines desecrating corpses, decided to go after a NATO member nation.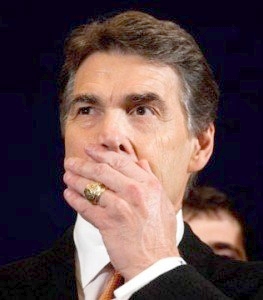 During the debate, Gov. Perry lashed Turkey, insisting that it was ruled by "Islamic terrorists" and calling for the US to withdraw all aid from them. He also added that it is "time for us to have a conversation about whether or not they belong to be in NATO."
Perry went on to insist that the move would "send a powerful message to countries like Iran and Syria and Turkey." Though Turkey's current ruling party is more religious than is common in the historically secular nation, it has retained close military ties with the US and indeed all NATO member nations, and there hasn't been any indication of diplomatic strain between the two.
Indeed, the closest America and Turkey have come to a diplomatic row came after Israeli commandos boarded a Turkish aid ship, the Mavi Marmara, and killed several Turkish aid workers, including a dual-citizen from the US and Turkey. While the Turkish government was outspoken in its criticism, US officials shrugged it off, with Vice President Joe Biden saying Israel had every right to attack the ship.
Turkey, needless to say, is surprised that it has wound up in Rick Perry's equivalent of the "axis of evil" and is none too happy about it. The Turkish Foreign Ministry released a statement defending their role in NATO, and suggested that Gov. Perry's low poll numbers underscored that "the US has no time to waste with candidates who do not even know their allies."