With the Arab League's monitoring mission continuing in Syria, Qatari Emir Hamad bin Khalifa al-Thani took the unprecedented step of urging the Arab League to organize a military attack against Syria.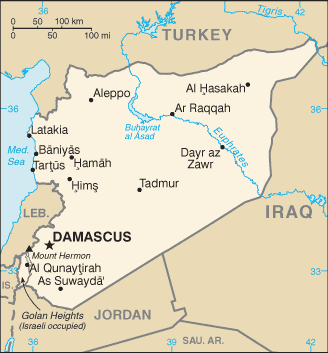 Syria, a founding member of the Arab League, has run afoul of the rest of the league with its crackdown against pro-democracy protesters. Syria first agreed to an Arab League plan to end the violence and negotiate broad reforms in early November, but it took several weeks before the deal even started to be implemented.
Of course Syria is far from the only Arab League member struggling with pro-democracy protests, and many of the other nations have managed to brutally crackdown on dissent without any serious reaction from the league. The league's position on Syria rather reflects long-standing rivalries with the Saudi-led bloc of Gulf states and the hope among those nations that they can exploit Assad's behavior to replace him with a more pro-Saudi (though not necessarily any more democratic) regime.
Still, Arab League officials insisted that there are no current plans to send troops "for the time being."
But former Arab League chief Amr Moussa appeared to endorse the Qatari Emir's call to arms, saying he believes the league should "begin to study this possibility and begin consultations on this issue." Moussa's position is far from disinterested, however, as he is planning to run for President in Egypt and would surely like to use Syria to improve his revolutionary bonafides in post-revolution Egypt.
British officials downplayed the prospect of a foreign invasion of Syria, saying they didn't believe that the UN Security Council would approve it. Though this is almost certainly true (Russia is virtually guaranteed to veto any resolution that might be interpreted as supporting any international action in the wake of the Libya fiasco), the Russian government has expressed concerns that NATO member nations, notably Turkey, might launch a unilateral invasion without any UN permission.