The resumption of U.S. drone strikes inside Pakistan are counterproductive and violate Pakistani sovereignty, Pakistan's foreign office said on Thursday.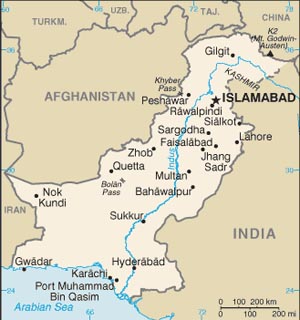 "Pakistan has a clear position on drone attacks [which have] a disadvantage over tactical benefits," said the foreign office spokesman Abdul Basit in his weekly briefing at the Foreign Office. The spokesperson also said these attacks occur without Pakistani permission, violate their sovereignty, and would not be condoned.
U.S. drone attacks resumed on Tuesday of this week after being suspended in November after an unprovoked U.S. attack on a Pakistani military outpost killed 24 Pakistani soldiers and led to heightened tensions between the two countries. On Tuesday, the U.S. launched a drone attack that killed four unidentified individuals and injured several more.
A second drone strike on Thursday hit two cars that were heading towards the border in North Waziristan, killing six unidentified individuals.
A study released this week revealed that 75 drone strikes were launched in 2011, killing 609 people. The vast majority of the victims were never identified publicly, and only three were ever confirmed to be al-Qaeda "commanders." The Bureau of Investigative Journalism recently catalogued lengthy findings on civilian casualties in the drone war, counting hundreds of civilians by name who were killed in drone strikes, including at least 168 children. Journalist Noor Behram, who had been on the ground in Pakistan tallying the dead, has estimated that "for every 10 to 15 people killed, maybe they get one militant."
The Washington Post recently reported that the drone war in Pakistan has resulted "in an estimated 1,350 to 2,250 deaths." But the public doesn't have an accurate idea of how many have been killed, because "the identities…remain classified, as does the existence of the drone program itself."