Egypt's Muslim Brotherhood  say they plan to pass legislation granting immunity to the ruling military generals for crimes they have committed since taking power in February.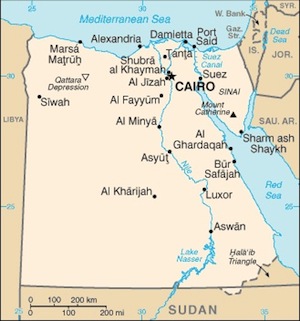 The Muslim Brotherhood's Freedom and Justice Party won large majorities in a set of Egypt's post-Mubarak democratic elections, but the prospects for civilian rule to take over are not so certain. Allegedly, they are trying to ease the Supreme Council of Armed Forces (SCAF) out of power in exchange for immunity.
The influence of SCAF had helped oust former dictator Hosni Mubarak from power during last year's revolution, but they have since renewed the state repression and violence against peaceful protesters so prevalent under Mubarak. The youth and Egypt's leading secularists have been calling for SCAF to be prosecuted and punished for their crimes.
But now that may not happen. And it's possible the shrewd politics from the Muslim Brotherhood is not the only reason. The Brotherhood has been on the side of the military junta more and more since the U.S. started talks with them in recent months. One day before this announcement to grant immunity, U.S. Deputy Secretary of State William Burns met with the head of the Brotherhood's Freedom and Justice Party, Mohammed Morsi.
It quite possible that the U.S. fears that legal action against the SCAF will put them in jeopardy as well. Amnesty International recently found that the U.S. has repeatedly shipped weapons – including ammunition and riot gear – to SCAF despite the violent crackdown on protesters. U.S. support for SCAF has remained assertive even as it rolled back progress toward democracy in post-Mubarak Egypt.
Former U.S. President Jimmy Carter also recently met with SCAF leader Field Marshal Mohamed Hussein Tantawi. "Full civilian control is a little excessive, I think," Carter was quoted as saying after the meeting. "I don't think the SCAF is going to turn over full responsibility to the civilian government. There are going to be some privileges of the military that would probably be protected," Carter added.
The attempt to unseat contested Yemeni President Ali Abdullah Saleh also faced similar questions of immunity. But U.N. High Commissioner for Human Rights Navi Pillay denounced it as illegal: "International law and the UN policy are clear on the matter: amnesties are not permissible if they prevent the prosecution of individuals who may be criminally responsible for international crimes including war crimes, crimes against humanity, genocide, and gross violations of human rights."