In a speech today at Damascus University, President Bashar al-Assad vowed to hold onto power at all costs, saying he will strike with an "iron fist" against the opposition and said the unrest would only end with them being crushed and when his regime "defeats the conspiracy."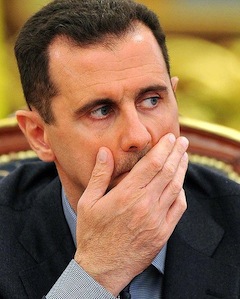 Assad went on to blame the international media for the violence in his country, saying that the effort has "failed" and that his final "victory" is near. He went on to claim that "over sixty T.V. channels in the world are devoted to" plotting against him.
Of course international opponents have railed against Assad during the crackdown, and some nations, notably Turkey, have made no secret of their efforts at backing opposition factions, particularly those in favor of international military intervention.
Yet the pro-democracy protests appear to have gotten their start as a real expression of opposition to the Ba'athist regime, with protesters in the city of Daraa coming out in relatively small numbers, and those numbers growing in the face of regime attacks.
Even the claims of international media outlets reporting excessive death tolls are largely a problem of Assad's own making, as restrictions on foreign media have given the very outlets Assad is condemning a perfectly valid excuse for citing opposition groups for the figures, particularly when the Syrian state media has often pretended that the public protests weren't even happening.
Indeed, Assad had a perfect test case for this in the 2009 post-election protests in Iran, not to mention Israel's 2009 ban on journalists entering the Gaza Strip. Both nations wound up, like Assad, railing against international media coverage.